Litecoin was fascinating when it first came out. It was like silver to Bitcoin as gold, with logo colors to match.
Some tout the benefit of faster transactions, but Bitcoin usually gives instantaneous confirmations when making purchases or transfers.
Litecoin was once much more efficient to mine, but that advantage has mostly passed. It my single attempt to make an online purchase using Litecoin, the vender had to charge a 10% premium to cover the cost of the payment processor. Likely a market monopoly and possibly a good business opportunity for someone enter the arena and charge 5% or less.
Anyway, paying a 10% premium doesn't sit well, especially on large purchases.
The Litechain blockchain can take hours or even days to download on the main wallet. Sure, after you do it once, subsequent downloads take less time.  But if you don't use it for a month or two, you can still be waiting 30 minutes or more to download the latest portion of the blockchain.
By contrast, there are multiple Bitcoin wallets that do not download the entire blockchain and sync in under a minute.
There are also exponentially more places to transact using Bitcoin versus Litecoin.
Litecoin offers lower denominations, which seems useful at first in the way that silver may be better for smaller purchases. But bitcoins are divisible down to 8 decimal points, unlike gold, rendering this apparent advantage pretty much void.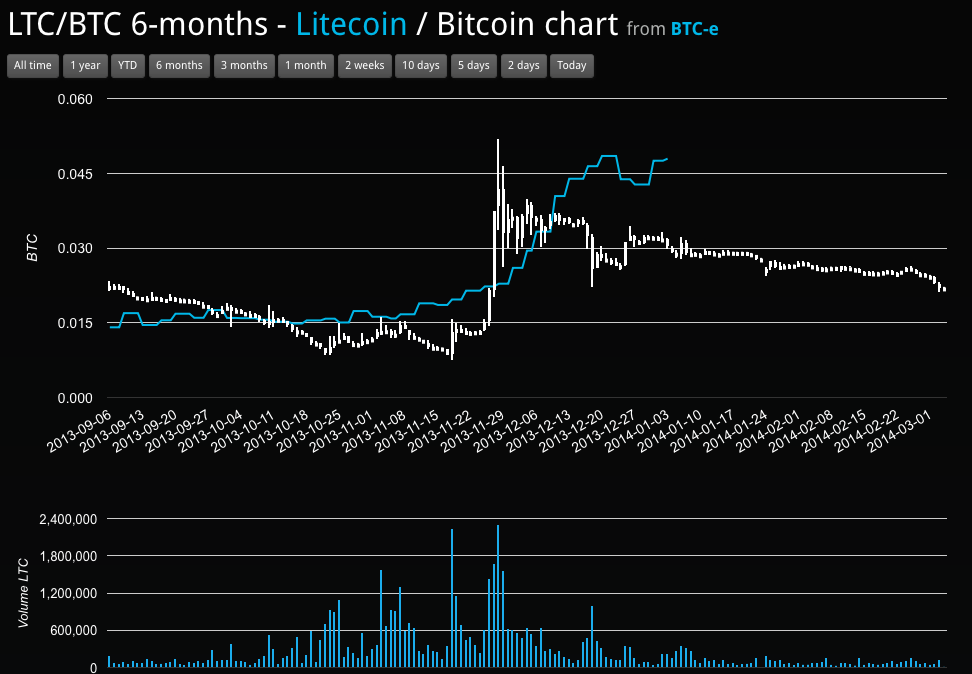 It looks as though many investors of crypto-currencies reached a similar conclusion, starting in November of last year. But plenty are still holding and buying Litecoin, potentially offering an opportunity for wiser investors to exit Litecoin without losing too much value.
Auroracoin, the digital currency launched this February for use by the citizens of Iceland, has now passed litecoin to become the third-largest digital currency by market capitalization.
What do you think? Is it time to exit Litecoin and convert them to Bitcoin before the LTC/BTC ratio continued lower?
If you want to get all of our updates on crypto-currenceis and the technology markets in general, please make sure to enter your email below. The next 50 people to sign up will also get FREE access to our newsletter and model portfolio.
We hate spam too, so you can trust that we will never sell or share your email address.