Would you like to charge your mobile phone just once or twice per week?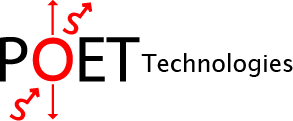 Poet Technologies (PTK or POETF) believes it can do just that, along with revolutionizing the semiconduftor industry. The brainchild behind the technology is Professor of Electrical Engineering at UCONN, Dr. Geoff Taylor, and he claims to have created a disruptive technology that will allow any of the major semiconductor makers to crush their competition.
CEO Peter Copetti explained:
Poet integrates optics and electrics on one dye, one monolithic chip. And it does so while still providing best-in-class performance and step function improvements in both speed and power and in many cases of substantial decrease in manufacturing cost.
Now by step function improvements, I don't mean incremental improvements that you see in computers these days where you move by 3.2 gigahertz to 3.5 gigahertz. I'm talking about multiple times improvements, and in power efficiency, you're talking about 70% or 80% power savings on your cellphone for example. So instead of charging that phone twice a day like I do regularly, you might charge that phone once a week.
POET is a semiconductor design and engineering firm whose Chief Scientist is Dr. Geoff Taylor, a highly respected and recognized Professor of Electrical Engineering and Photonics at the University of Connecticut. He has overseen the development of processes that, in a nutshell, combine to make the powerful semiconductor chips that power everything from computers to cell phones to avionics systems up to ten times faster, with up to 90% greater power efficiencies, while reducing manufacturing costs. POET is the developer of the planar opto-electronic technology ("POET") platform for monolithic fabrication of integrated circuit devices containing both electronic and optical elements on a single semiconductor wafer
Management expects the initial NRE revenues in 2015, then revenues from foundries and finally from end device revenues at some point in 2016.
We should start seeing a little more proof of concept from POET soon. On March 30th, the company announced the signing of a collaboration agreement with BAE Systems Microelectronics. BAE Systems will provide non-exclusive third-party foundry services in support of the Company's "Lab-to-Fab" transition plan.  The current phase of the work will be performed between March 2015 and August 2015. Key objectives of the collaboration include process transfer, prototype builds and design enablement kit development.  Using BAE Systems' ISO Certified manufacturing facility will improve the quality, process control and analytical capacity of prototype builds. The result will be both a more manufacturable process and improved optimization of the device structures included in the POET technology.
I believe there is a good chance that POET could be acquired by Intel or another large chipmaker once they begin proving the technology works. Another possible catalyst for a short-term bump could be a listing on the NASDAQ  exchange, which the CEO anticipates will occur in June.
The share price nearly doubled from late January to early April, climbing from $1.05 to $2.00. However, it has since corrected to $1.50, which is the 200-day moving average and bounced sharply off this support line. The stock is up roughly 10% today to $1.66. Even after today's bounce, there is still 20% upside just to return to the previous high.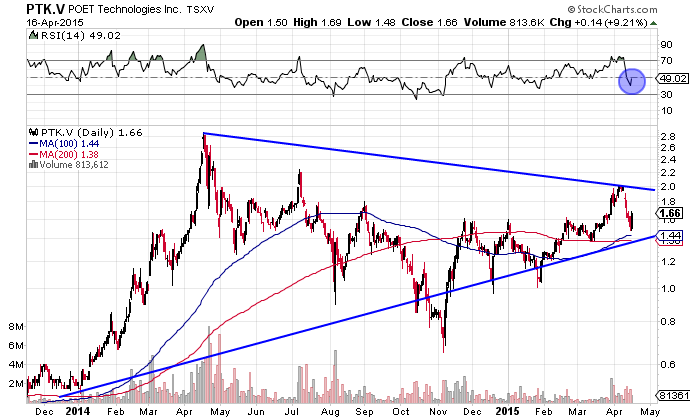 We will see one of the legs of the triangle pattern violated in the near future and it will determine the trajectory of the stock price. My guess is that support around $1.40 is likely to hold up, as it has the backing of both of the key moving averages. To the upside, it only needs to clear the previous high from early April and the RSI has plenty of upside.
Many people will shy away from the stock, as the company has yet to provide the proof in the pudding and requires an NDA from anyone getting past a vague description of how it works. However, the company has an intellectual property portfolio developed and the good doctor is a Professor at the University of Connecticut (UCONN), where the technology was developed. That should lend some credibility.
If you want to get a better feel for the company, their technology and their management, the following video will help. At the 33 minute mark, it features Peter Copetti (Exec. Co-Chairman & Interim CEO), Ajit Manocha Exec. Co-Chairman (35 years of semiconductor industry experience) most recently CEO of Global Foundries. (Multi-Billions $US Revenues) and Stephane Gagnon Chief Operating Officer with 20+ years of semiconductor and telecom management experience. This is their first presentation of POET Technologies to Investors in London.
The company has not been marketed very heavily and yet the share price is up 4X from October of 2013, commanding a market cap of around $220 million. They have a heavy number of shares outstanding, which the CEO brushed off as necessary to get through a distressed financial period prior to his taking over of the company.
We last bought shares in August of 2014, held them for a month, and walked away with a 44% profit. We can now buy back 15% cheaper and the timing seems ripe from my vantage point. The market potential is absolutely enormous, even if they only make a small dent. Multi-billion market cap potential.
I was not compensated to write this article and I do not own shares personally, but may buy in the next few days.
If you have an opinion on Poet Technologies, please leave a comment below.
Our newsletter and model portfolio remain FREE for a limited time longer. If you have yet to sign up, simply enter your email here to receive updates and access to the portfolio.