The internet-of-things business it just in its infancy and there is plenty of growth ahead. I've had my eyes on Sierra Wireless (SWIR) for quite some time. The stock got ahead of itself on the hype of this sector and has since corrected from $48 to $33 during 2015. I think this represent a good buying opportunity for investors.
But I have by sights set on another player in this space and believe the company will outperform Sierra Wireless going forward. That company is Novatel Wireless (MIFI).
The wireless solutions technology provider primarily sells pocket-sized wireless modems to allow Internet access anywhere and also machine-to-machine modules. The Company delivers Internet of things (IoT) and cloud software as a service (SaaS) services to carriers, distributors, retailers, OEMs and markets. The big brother cameras are a little creepy, but the image below gives you some context for the connectedness that Novatel enables.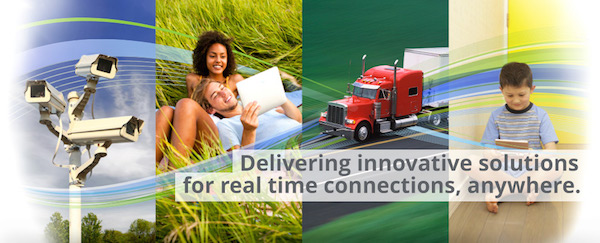 Novatel's stock has actually seen estimates rise over the past month for the current fiscal year by about 50%. But that is not fully reflected in its price, as the stock declined over the same time frame. Of course analysts don't always get it right, but I think the short sellers held the stock down for a while and forced covering of shorts is sending the share price rocketing higher this week.
This year's expected earnings growth over the prior year is around 90%, yet forward sales multiples remain well below those of larger rival Sierra Wireless.
Activist investors Maguire Asset Management disclosed a sizable stake in Novatel recently: 2.5 million shares (5.5% stake). The firm adds managing partner Timothy Maguire has issued a letter to the board "expressing confidence in [Novatel's] management team and offering continued support to help [Novatel] achieve its full potential." They believe its shares "trade at a discount to its most notable peers."
Key partners?
I had my car stolen while playing basketball at a park in Santa Monica several years ago. It was a surreal experience to look up and see my new car gone from its parking spot. The police later located it in a parking lot behind a bakery using the LoJack theft recovery system that the dealership convinced me to purchase.
Novatel recently announced a partnership with LoJack (NASDAQ:LOJN). LoJack will rely on Novatel's 2G/3G telematics modems to enable an inventory-monitoring service for car dealers.
More recently, Novatel has shown its commitment to grow in this space by acquiring Feeney Wireless, a provider of hardware, software and services for M2M/IoT systems and networks, for $25M in cash and stock + up to $25M in earn-outs to be paid over 4 years.
With Feeney expected to generate 2015 revenue of $38M, Novatel is paying less than 0.7x forward sales; the company's 2015 non-GAAP EBITDA is expected to total $3M. Its hardware includes M2M/IoT modems, in-vehicle gateways, and power components; its software includes an M2M app framework and device management software; its services cover hardware design, systems integration, and remote monitoring.
Novatel, which already offers M2M modems and tracking/management software, asserts the deal allows it to be "a total IoT solutions and services leader, from hardware to SaaS to connectivity." It follows Sierra Wireless' purchase of M2M service provider Wireless Maingate, and Amazon's purchase of IoT cloud service provider 2lemetry.
So how about actual results?
Well, Novatel's Q4 EPS of $0.01 beat estimates by $0.02. Revenue of $55.36M (-15.3% Y/Y) beat estimates by $3.23M. Sure, those numbers aren't huge, but I believe they are just getting started. If I am correct, 2015 is going to be huge year for Novatel and the stock could surge by 50% or more by year end.
Here is a nice tidbit of information that shows the commitment of Novatel's executives. Each of its executive officers "has volunteered to receive 30% of their 2015 base salary in the form of stock, rather than cash." I like when insiders have a stake in the future success of the company they are guiding, as it helps put the focus on long-term success and not just short-term goals that help them achieve their annual bonus.
Novelette's stock price is up 8% today and 14% in the last few days. The technical chart is bullish, with a clearly defined uptrend channel and recent bounce off previous resistance. It remains above the 100-day and 200-day moving averages and the momentum indicators are pointing higher with room to run.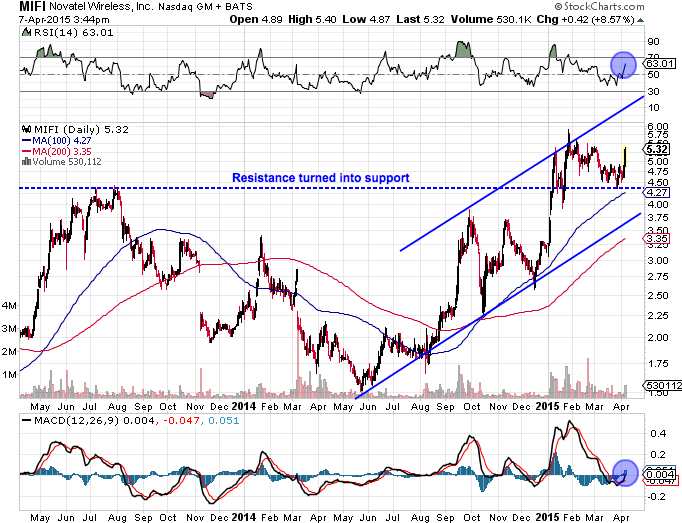 I added Novatel Wireless to the Technology Speculator portfolio today at $5.30, giving it a 5% portfolio allocation. I have a price target of $7.50 by the end of 2015. The portfolio is up 10% so far in 2015, while the NASDAQ is up just 3.7%. We have hit our 100th subscriber, but I plan to keep the newsletter free for a few more months. If you have yet to subscribe, please make sure to do so here before it transitions into a paid service and I ask you to send me all of your bitcoin.