Shares of Neonode, Inc (NEON) spiked up over 20 percent Tuesday on nearly 10X average volume. This was partly due to discussions on Twitter about the company's upcoming technology introduction at the CES in Las Vegas.
According to a December 18 press release from the company, Autoliv and Neonode will introduce the first joint concept "zForce DRIVE – Active Sensor Steering Wheel," which is based on Neonode zForce AIR technology.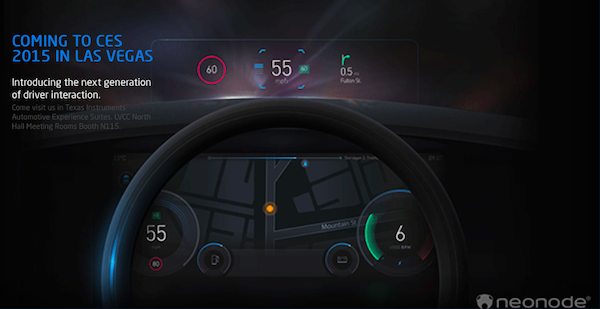 The new technology provides a light-based "touchless touch" sensing with visual guidance eliminating the need for the driver to move the hands off the wheel while interacting with the car. It will also replace mechanical switches and allows the car to know where the driver's hands are placed on the wheel.
"Neonode's strength in innovative user interfaces, based on its proprietary optical technology, creates a joint opportunity to lead the industry towards a more powerful and innovative way to interact with automobile systems. We are delighted to work with Autoliv. Together we can create a safer and more enjoyable interaction in the driving environment," says Thomas Eriksson, CEO at Neonode.
The technical chart shows the powerful breakout today. It has brought shares to key resistance at both the 200-day moving average and prior support/resistance levels. The RSI is now technically overbought, so it may be best to wait for a pullback. The series of higher lows over the past few months is a bullish technical development and we believe Neonode has a bright future. Even after the huge advance today, shares would need to more than double just to return to 2014 highs.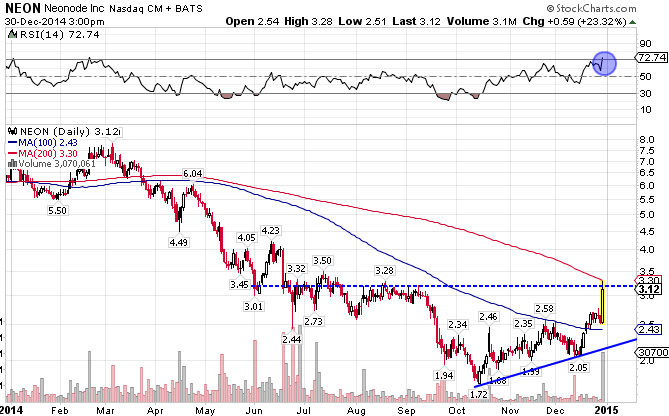 Disclosure: Technology Speculator and its founders have no shares in Neonode at the current time and will not buy or sell any shares in the next 48 hours. We were not compensated by Neonode or any investor relations firm to write this article, ensuring unbiased and objective research.  Click here to make sure you get future tech stock spotlights.