Demand for top-notch cybersecurity has been increasing in recent year and will likely continue to grow in importance. This trend accelerated in 2014 with security breaches at Target, Home Depot and most recently, JPMorgan Chase Bank. We can now add Anthem Healthcare to the list as the latest major security breach. Authorities are now saying up to 9 major U.S. banks were also hacked, which essentially means that everyone with a bank account in the U.S. probably has some of their information in the hands of hackers.
The new era of warfare, political activism and sophisticated crime will be in the realm of computer hacking. The potential to do damage to politicians, end careers, bring down governments and inflict substantial financial pain on banks and large corporations is enormous. Some of the top paying jobs out of college with the best job security will be in computer programming with an emphasis on cyber security.
With the NSA scandal brought to light by Edward Snowden, government/military corruption brought to light by Julian Assange and growing interest in crypto-currencies such as Bitcoin, the world is waking up to the power and potential of the Internet to change entire social paradigms.
With the recent correction in the equities market and sharp drop in technology stocks, I decided to take a closer look at some of the leading cybersecurity companies. I took a look at their technologies, performance standards, management, balance sheets, growth prospects and more.
I took a look at Palo Alto Networks (PANW), FireEye Inc (FEYE), Check Point Software (CHKP) and Barracuda Networks (CUDA). Some of these companies showed poor firewall performance when tested by 3rd parties and some were simply experiencing slowing growth and a loss of market share to grittier upstart competitors. The increasing emphasis on cyber security may lift the entire sector, so I am not necessarily bearish on any of the stocks mentioned above. My research simply concludes that there is a better player in the space…
After careful consideration, my top pick in this sector is Fortinet Inc (FTNT).

Fortinet is my top pick due to the high likelihood that they will be taken over by a larger technology firm.  Revenues have been consistently topping expectations and are expected to grow by 20% in 2014. The company has zero debt and over $900 million in cash in the bank.
The company reported strong sales in its high-end enterprise, with the CEO pointing to nearly double the volume in transactions over $500,000. The ability for a mid-cap stock like Fortinet to connect with big-time clients is key, and very encouraging for future growth.
The technical chart is bullish and suggests right now is an excellent buying opportunity. The share price dipped to key support around $24.50, which is also the 100-day moving average. It bounced off this support level strongly and looks poised to continue higher. The RSI has turned up and has plenty of room to run. There is stronger support at the 200-day moving average around $23, but I doubt the 2014 trend line will be broken.

Those with a higher risk tolerance may also want to check out Imperva (IMPV) which has carved out a nice niche focusing on data center security.  They are one of the smallest security stocks with a market cap under $1 billion. The share price has been very volatile over the past year with a huge drop after weak Q1 financials and lowered guidance. They have since reshuffled management and the share price has stabilized. I think Imperva could be a rebound story for 2015, but be ready to stomach more volatility with the stock versus its competitors.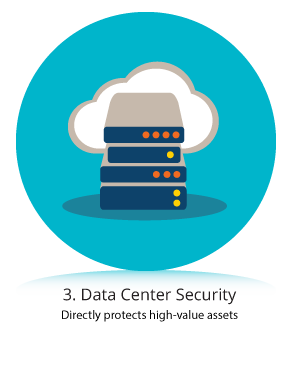 FireEye (FEYE), with their Mandiant endpoint protection/incident response unit, has been hired by Anthem to investigate the breach. Mandiant was also hired by Sony following its breach and JPMorgan writes today FireEye/Mandiant has become the "go-to" for probing high-profile attacks.
Other security tech plays worth your consideration include CyberArk (CYBR), Vasco (VDSI), Proofpoint (PFPT), Qualys (QLYS), and Barracuda (CUDA).
Make sure that you are signed up to receive trade alerts and the monthly newsletter by adding your contact information below. The newsletter remains free for a limited time.
We hate spam too, so you can trust that we will never sell or share your email address.
Tagged: My Top Cybersecurity Stock Pick for 2014-2015