I've always been a data junkie and analytical thinker, so it is exciting in a nerdy way to hear about the advances of Hadoop and other deep-dive data analytics tools. Hadoop is Apache's open-source software framework for storing and processing big data in a distributed fashion on large clusters of commodity hardware. Essentially, it accomplishes two tasks: massive data storage and faster processing.
Hadoop was created by Doug Cutting and Mike Cafarella in 2005. Cutting, who was working at Yahoo! at the time, named it after his son's toy elephant. The initial release came in December of 2011, but the first stable release only occurred a few months ago in November of 2014.
While traditional databases like those offered by Oracle Corp. store predefined information in rows and columns on individual servers, Hadoop can spread uncategorized data across a network of thousands of cheap computers, making it a less costly, more scalable way to catalog multiplying streams of input.
The market for big-data tools may grow from just $1.5 billion in 2012 to $50 billion by 2018 researchers say. Most of that money will be spent on services provided by commercial Hadoop specialists such as Cloudera, Hortonworks, and MapR Technologies. Investors have poured over $2 billion into businesses built on Hadoop. High-profile implementations by companies such as Facebook, Yahoo, and numerous Fortune 50 giants, is driving adoption of Hadoop.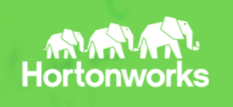 One of the only ways for investors to get exposure to the growth of Hadoop is though a company named Hortonworks. The company was founded in 2011 with 24 of the original Hadoop data architects and engineers from Yahoo!
They leverage the Hadoop framework to enable data-driven enterprises to more easily take advantage of the features.  They help clients build a modern data architecture that is faster, more powerful and less expensive that previous methods. They are able to slash storage costs by integrating Hadoop into a company's data center and optimizing EDW costs by offloading low-value computing tasks such as ETL to Hadoop.
Hortonworks Data Platform (HDP) is extremely flexible, as it can be deployed on-premise, in-cloud, on Windows or Linux, on commodity hardware or as an appliance. Companies can use the technology in advanced, deep-dive data analytics that create real value and immediate ROI. The ability to store and analyze such large amounts of data so efficiently helps companies identify new revenue streams, enrich existing revenue streams and optimize business performance.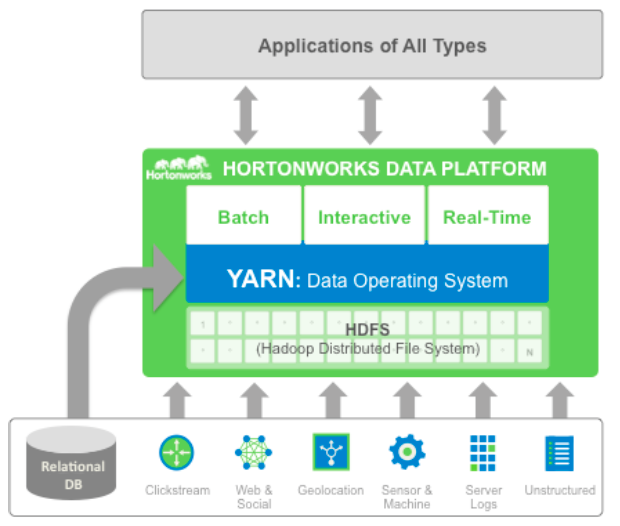 The current client list is 300+ names and includes Western Digital and Neustar. But the potential client list is literally endless and includes just about all of the world's largest enterprises.  They all stand to benefit from the technology and Hortonworks has been a key partner in its development and is leading the charge forward.
But not everyone is bullish on the future of Hadoop and Hortonworks. Paradigm4 reports that more than three-quarters (76%) of the scientists who said they have used Hadoop or Spark (the computational framework built on top of the Hadoop distributed file system) cite "significant limitations" to their use. If you're looking to produce complex analytics or real-time analytics, Hadoop probably isn't the platform for you, explains Claudia Perlich, chief  scientist for Dstillery, a marketing company that crunches web browsing data to help brands target ads.
"The dirty secret is that a significant majority of big-data projects aren't producing any valuable, actionable results," said Michael Walker, a partner at Rose Business Technologies, which helps enterprises build big-data systems. According to a recent report from the research firm Gartner Inc., "through 2017, 60% of big-data projects will fail to go beyond piloting and experimentation."
But some of the scientists who stopped using Hadoop simply may have chosen it for the wrong job — such as real-time analytics — in the first place. For them, moving on only makes sense.
Wikibon analyst Jeff Kelly (right) says enterprises will move to address the skills problem and vendors of Hadoop distributions will do a better job determining best use cases, adding design/deploy/maintenance tools, integrating with existing infrastructure/business processes and building applications that actually move the needle. "I expect most Fortune 500 companies will be using Hadoop in some form or another within two to three years, if not sooner," he said, "and I think this will cut across verticals, but with financial services/banking/insurance, retail, and industrial sectors leading the way."
Kelly's argument is backed up by Forrester Research analyst Mike Gualtier, who recently predicted that 2015 will be Hadoop's breakthrough year in many enterprises:
"Forrester believes that Hadoop is a must-have for large enterprises, forming the cornerstone of any flexible future data platform needed in the age of the customer," wrote Gualtier in a report. "But, we also believe that Hadoop is becoming more than just a data platform. Given its economics, performance and flexibility, Hadoop will become an essential piece of every company's business technology (BT) agenda."
Insider buying is always a bullish sign at budding technology companies. Director Michelangelo Volpi bought 100,000 shares of Hortonworks stock on the open market in a transaction that occurred on Wednesday, December 17th.
Analysts at JMP Securities initiated coverage on shares of Hortonworks in a research note on Monday, December 22nd. They set an "outperform" rating and a $30.00 price target on the stock. This is upside of more than 10% from the current price.
But on the downside, Hortonworks reported its revenue for the first nine months of 2014 was $33.4 million–far short of the $100 million that Chief Executive Rob Bearden had said in March he expected for the year. While Q3 revenue more than doubled, HDP still racked up an $87 million loss in the period, nearly double its loss in the previous quarter.
Hortonworks priced its first batch of public stock 34% below what investors had paid in a private funding round in March. The move underscored some observers' doubts about the prospects for a company based solely on Hadoop. But investors have pushed Hortonworks's capitalization to over $1 billion and the stock is up over 20% from its December lows to $27/share.

The current dip could be offering investors a buying opportunity at $27 or less. If the growth in the big data market that experts are expecting comes to fruition, I believe there is plenty of upside to Hotonworks and its competitors such as Cloudera that have yet to have their IPO. Regardless, this will be a trend to watch in 2015 and worth keeping on your radar.
Click here to make sure you get future tech stock spotlights.
Tagged: Hortonworks to Leverage Hadoop