Fiber Optics is a method of transmitting information from one place to another by sending pulses of light through an optics fiber. The light forms an electromagnetic carrier wave that is modulated to carry information. This method is vastly superior to electrical transmission over copper cables. The fiber optic sector continues to grow at a rapid pace, as the world demands more and more speed in Internet and other forms of communication.
Two companies in this space have reported different earnings. One popped after beating both revenue and earnings expectations and the other flopped after a huge miss.

Clearfield (NASDAQ:CLFD) designs, manufactures and distributes fiber optic management products, helping service providers reduce the high costs associated with deploying, managing, protecting and scaling a fiber optic network to deliver the mobile, residential and business services customers want. Based on the patented Clearview™ Cassette, their unique single-architected, modular fiber management platform is designed to lower the cost of broadband deployment and maintenance while enabling their customers to scale operations as their subscriber revenues increase.
FQ3 (July 23 release) EPS of $0.14 beats by $0.05.
Revenue of $18.19M (+26.7% Y/Y) beats by $2.97M.
Zacks recently upgraded the stock and analysts have price targets in the $17 to $20 range. Shares rallied 8.5% today to $14.79, still well below these targets. We expect additional upside from Clearfield in the weeks and months ahead.
The technical chart is bullish with a series of higher lows over the past year. The RSI momentum indicator is pointed higher with room to run. Resistance is visible around $19.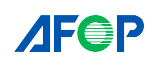 Alliance Fiber Optic Products (AFOP) is another company that manufactures fiber optic components. Their products enable emerging and leading communications equipment manufacturers to deliver optical networking systems to the rapidly growing data center, long-haul, metropolitan and last-mile access segments of the communications network. Their product line includes interconnect devices that connect optical fibers and components, couplers and splitters that divide and combine optical power, and dense wavelength division multiplexing devices that separate and combine multiple specific wavelengths.
Q3 EPS of $0.23 misses by $0.12.
Revenue of $18.06M (-0.2% Y/Y) misses by $6.63M.
Zacks had a $21 price target on the stock, which will likely get downgraded after today's earnings release. The stock was up 3.3% during the day, but plummeted 16% in after-hours trading.
The technical chart is bearish, with a  double top around July of 2014 and 2015. Since then, shares have been in a downtrend and the 50-day moving average recently dropped through the 200-day moving average. The RSI is neutral in this chart, but will be pointed lower when it updates tomorrow.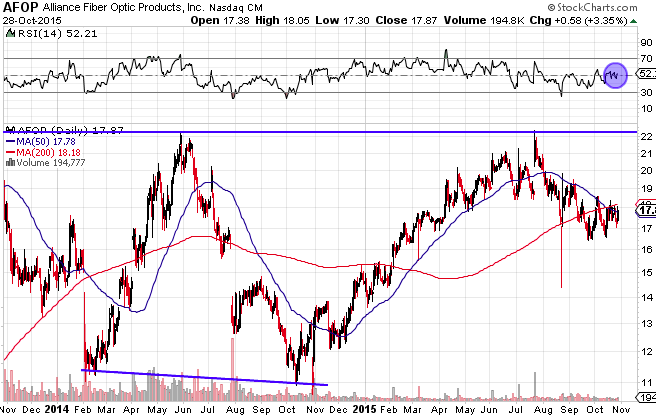 We hold both Alliance Fiber Optic Products and Clearfield Inc in the Technology Speculator portfolio. We are cutting losses on AFOP we expect additional downside ahead.
It has been a tough few months for technology stocks, but several positions in our portfolio made huge gains today. Perceptron PRCP added 9.5%, Kandi Technologies KNDI  was up 9.4% and Energous WATT  climbed 8.8% higher. You can view all of the stocks in the portfolio and get our email alerts for free by clicking here.