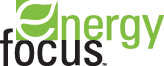 Energy Focus (EFOI) has carved out a nice niche, making retrofit LED lights to replace fluorescent tube lighting for the military and commercial institutions. They have received large orders from the Navy and sell to a variety of commercial customers. Replacing old fluorescent lighting with high-efficiency LED light tubes can save up to 75% off energy costs. It also gets ride of the old toxic mercury-filled tubes that induce headaches and would pretty much require a hazmat team if they ever shattered.
LEDs can offer full dimming capabilities, whereas fluorescents are expensive to dim and do so poorly. They also offer directional light (illumination exactly where you need it), whereas fluorescents have multi-directional light that can get lost in unnecessary places. The Energy Focus lights are also flicker-free.
The company also manufacturers a variety of specialty commercial LED luminaries as shown below.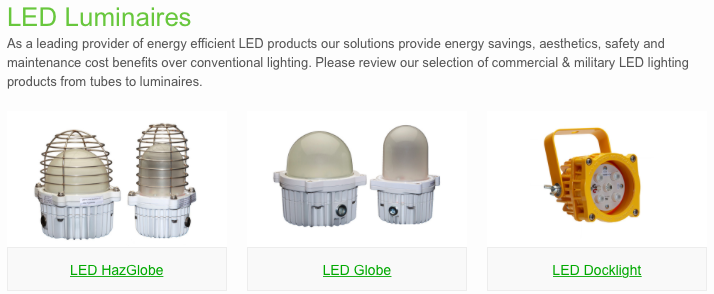 Energy Focus has been busy lately. During the recent quarter, Energy Focus launched the commercial Intellitube®, the industry's only UL-certified dual-compatibility (Direct-Wire and Direct-Fit) tubular LED ("TLED"). They also shipped the first foreign navy order, including military Intellitube and full fixture LED bunk lights, to the Royal Australian Navy. In addition, the company retrofitted 22 different K-12 school districts for the first half of 2015 and became the exclusive TLED partner of the U.S. Green Building Council's Center for Green Schools. More than doubled manufacturing floor space to accommodate future growth in production and warehousing needs for "Buy American" and "Made in America" products
Their stock exploded from $5 to nearly $30 from late April to early September, for a gain of roughly 500%.
Then on September 11th, despite shares closing the prior day at $23, the company announced a follow-on offering priced at $17 per share and the stock price proceeded to drop 24% to just under $17. The share price continued dropping towards $14, has a huge spike back above $16 on September 16 and have since slipped back towards $11.
Insider selling has not helped the situation, with a director selling 391,000 shares at $15.98 on September 18th. That is no small sale, as he netted $6.2 million.
The chart shows the volatility of the share price in recent months and the sharp drop after the offering was announced. The price is now at support near the 100-day moving average and upward-sloping trend line. This level was resistance in July, increasing the odds that it will turn to support now.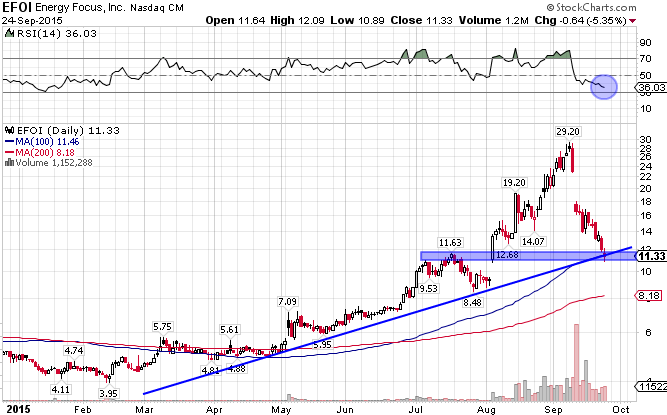 Analysts currently have a price target of $22 for EFOI.
But technical voodoo and shareholder dilution aside, the fundamentals and financials are quite impressive:
Revenues of $16.6 million were up 148% year-on-year and 26% sequentially vs. Q1
Gross margin of 46% is up 13.4 percentage points year-over-year
Net income of $2.1 million, or $0.21 per share, represents a $2.7 million year-over-year increase from the prior year's second quarter loss, and a $1.0 million increase (nearly double) vs. the first quarter of 2015
"Our second quarter 2015 financial results mark the fifth consecutive quarter of solid growth since the first quarter of 2014, as we continued to successfully execute our growth strategy. We again saw across-the-board improvements in our financial results, notably organic sales growth far in excess of our long-term 50 percent top-line growth target. Additionally, gross margins expanded and continued to stay well above our long-term 35 percent target, and we posted our second consecutive quarter of profitability," stated James Tu, Executive Chairman and Chief Executive Officer.

"During the quarter we further expanded the production and delivery of Military Intellitube, which has now retrofitted approximately 20 percent of the U.S. Navy fleet based on our estimate. We also continued to aggressively pursue opportunities with U.S. allied foreign navies as we made our first product shipment to the Royal Australian Navy for one of their twelve frigate-class warships."

Mr. Tu continued, "In addition, we also announced the official launch of Commercial Intellitube at the beginning of the quarter to complement our direct-wire TLED offerings. We continued to develop the pipeline of long-term opportunities with end customers within specific vertical channels primarily military bases, healthcare facilities, K-12 schools, industrial and national retail chains and we do anticipate growing, more substantial financial contributions from commercial products as we enter the second half of the year.
Disclosure: I own a small number of shares and may increase my position this week. I was not compensated to write this article.
Click here to get our FREE updates, stock picks and technology research.