Energous Corporation has developed WattUp,  a groundbreaking technology that will fundamentally change the way you think about charging your portable electronic devices.  The WattUp wire-free charging system delivers safe and efficient energy over the air in your home, office, car or practically any other space you can imagine. Truly mobile, wire-free power management means freedom from cords or stationary charging pads, and freedom from worrying about running out of battery life altogether.
I bought shares of Energous Corp (WATT) at $9.76 today. They have a disruptive technology that allows wireless charging of multiple devices at up to 30 feet. This does not require you to place your phone or tablet on any type of pad, but merely be within the same room or vehicle as the wireless charging transmitter. Imagine never having to plug in a cord to charge your devices again. I believe Energous will be very successful and reward early investors.
How Does it Work?
A Radio Frequency (RF) system, similar to a Wi-Fi system, delivers safe wire-free charging energy at a distance of up to 5m (15ft) from a transmitter to a receiver device, such as a mobile phone, and maintains charging while the receiver is in motion.  12 receiver devices can be managed by the system simultaneously.
The transmitter and receiver first communicate over Bluetooth. It takes about a second for the system to focus. The transmitter then sends out electromagnetic waves (basically very simple Wi-Fi signals) that collect around the receiver in 3D space. Between zero and five feet, the system can transmit four watts to up to four devices eacg. That sounds like a lot, but it's spread over hundreds of antennas on the transmitter and dozens of antennas on the receivor. What's really being transmitted are micro amounts of energy, as little as a tenth of a watt, that is then aggregated at the receiver. "We are essentially receiving ten or twenty times less energy density per antenna than your phone transmits," Leabman said.
The Hardware
Highly targeted and dynamic pockets of energy are delivered via multiple miniature antenna arrays and custom control chips in the transmitter, or Power Router.  Highly efficient energy harvesting of the micro energy beams from these pockets then takes place via paired antenna arrays and custom chips in the receiver devices.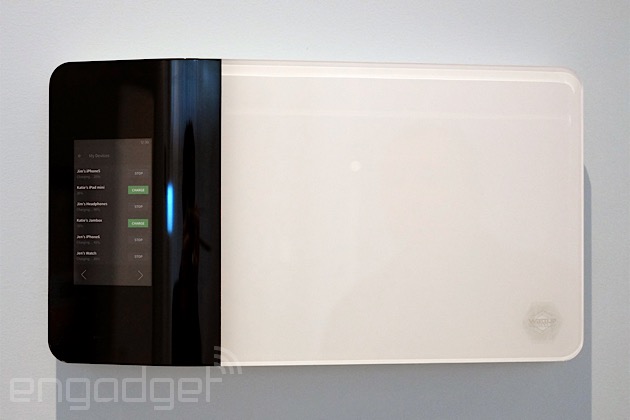 The Software
The WattUp™ software system ensures that the charging waveforms are dynamically directed, focused and controlled via proprietary algorithms.  Charging and communication between transmitters and receivers is intelligently managed using Bluetooth Low Energy and enterprise-class wireless networking protocols.
Energous won a Best of CES award in the Connected Home category as well as one for Disruptive Tech. Their market cap is still under $100M. Their revenue potential is enormous as this is a technology that just about everyone will someday be using. How soon they can get a commercialized version to market remains to be seen, but their progress to date has been very impressive.
The Founder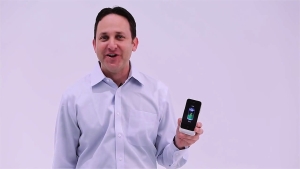 Forbes writes: Michael Leabman, a soft-spoken engineer, is one of those very smart people who manages to combines genuine decency with relentless drive. Starting as an undergraduate at MIT, Leabman spent more than a decade learning everything he could about electromagnetic waves. HIs knowledge wasn't just theoretical. Over the years, he has launched companies that delivered better WiMAX and offered broadband Internet service to aircraft in flight and cruise ships at sea. Energous was his fourth venture. Based on a foundation of mathematical algorithms developed over more than a decade, Energous was Leabman's biggest and boldest idea yet.
The Competition
Forbes writes: Energous's move to rapidly commercialize its technology puts it ahead of other startups focused on charging devices at a distance like Ossia, which is based in Redmond, WA, or Wi-Charge, based in Rehovot, Israel. Like Energous, Ossia delivers power to multiple devices using Wi-Fi. Ossia recently raised $9.3 million from Recruit Holdings, a Japanese venture firm, and other investors. But its transmitters are still considerably larger than Energous' transmitters. Wi-Charge wants to power devices via the infrared spectrum, which offers short wavelengths, higher frequencies and higher power, but it is still pulling together media demos.
The Future?
The technology is already well-received by manufacturers. By November, Energous had over 100 active partner engagements. The list added up to a Who's Who of consumer product companies, Rizzone said. The company had planned to ink two to four joint development agreements in 2014. Instead, Energous had twelve JDAs, and four were with major global players.
"What we witnessed has been a strong market demand from all corners of the mobile and battery power devices market," Holmes told investors attending a conference call on November 11. "The demand has been impressive and even quite overwhelming," Holmes added. "When Global 100 players are contacting you directly, it confirms that you are doing the right things."
There is still a big question mark regarding how fast they can charge and how efficient the process can be. WattUp isn't designed for rapid charging, but for constant trickle-charging. Roughly 30% of the energy is lost in the wireless charging process.
FCC approval is another big unknown. Noting first that the technology is a "no-brainer," Thomas Hudson, founder of the investment firm Pirate Capital, said "obviously we want to make sure the regulatory environment is accepting of this particular product."
The Chart
The technical chart for WATT is not very bullish at the moment. After climbing above $16 at IPO, the stock failed to break out above this level on a second attempt in June. It then put in a series of lower highs and lower lows for roughly six months. But in the past two months, shares appear to have bottomed around $7, made a higher high and higher low. In the past week the price broke out above both key moving averages and the RSI has turned higher, suggesting there may be additional upside ahead. Risk-averse investors may prefer to wait for the price to break above key technical resistance around $12 and make a new high above $12.44 before picking up shares.
Bottom Line
Energous went public much earlier than most companies and is giving investors an opportunity to get in at the ground level. The premise seems like a no-brainer, but it remains to be seen if they can get the technology right, if the FCC will grant approval and if consumers will perceive it as safe.
If these things fall into place, I believe investors willing to take an early gamble are going to see tremendous upside. Being the first mover in the wireless charging space, it would not surprise me to see this company have a valuation of well over $1 billion by the time their product is ready for market. That would be a return of roughly 10X and I believe we could see it happen within the next two years. This is why I decided to buy shares today, representing a small portion of the overall Technology Speculator portfolio.  I wish them success not only for financial reasons, but because I would love to never have to worry about charing my phone or iPad again. This next level of technological innovation is long overdue.
Disclosure: I was not paid to write this article. I have added a position to the Technology Speculator model portfolio, but do not personally own shares at this time. I may purchase shares for my personal portfolio at some point in the near future.  
To receive future trade alerts and access to the complete portfolio, sign up below:
We hate spam too, so you can trust that we will never sell or share your email address.