Energous Corporation has developed WattUp, a groundbreaking wire-free charging system delivers energy over the air in your home, office, car or practically any other space you can imagine. Mobile, wire-free power management means freedom from cords or stationary charging pads, and the potential freedom from worrying about running out of battery life altogether.
Energous has a disruptive technology that allows wireless charging of multiple devices at up to 30 feet. This does not require you to place your phone or tablet on any type of pad, but merely be within the same room or vehicle as the wireless charging transmitter. Imagine never having to plug in a cord to charge your devices again.
A WattUp transmitter, or Power Router, sends energy via a radio frequency (RF) signal to your WattUp-enabled electronic devices when requested. A WattUp receiver in each device converts that signal into battery power.
The entire system is software controlled, so it's intelligent and customizable to your needs and environment. And, because it's designed to work invisibly in the background, WattUp has the ability to make low battery anxiety a thing of the past.
WattUp technology is backed by more than 175 patent filings.
* * * *
There have been a number of bullish developments for Energous Corp over the past few months.
Recent lab tests were successful in validating their technology. Tests done by independent product testing firm Underwriters Laboratories (UL) found a device supporting Energous' WattUp over-the-air charging tech was able to receive 5.55W of power within 0-5 feet, 3.74W at 5-10 feet, and 1.06W at 10-15 feet.
Tests were also done to validate the simultaneous transmission of power to multiple devices five feet away, and to transmit power sequentially to four devices 8.5 feet away and spread 30 degrees apart. Energous reiterates it plans to "release products to the consumer through our licensing partnerships in late 2016, early 2017." Read more about the test results here.
There has been significant insider buying in the past month. CEO Stephen R. Rizzone acquired 22,000 shares of the business's stock in a transaction that occurred on Friday, November 20th. The shares were purchased at an average price of $6.90 per share, with a total value of $151,800.00. Following the completion of the acquisition, the chief executive officer now owns 76,362 shares of the company's stock, valued at approximately $526,897.80.
The company posted quarterly earnings results on November 10th that topped analysts' consensus estimates. Energous reported ($0.43) EPS for the quarter vs. ($0.54) expectations, a beat of $0.11. The company has no debt outstanding and management expects to be cash-flow positive at some point in the year 2017. Read more about their quarterly earnings here.
Energous is well-financed and recently completed a public offering for aggregate gross proceeds of approximately $20.7 million. The company estimates that the net proceeds of the offering will be approximately $19.0 million after deducting the underwriting discount and estimated offering expenses. Now that the financing is over, I expect the share price to rebound.
Energous has a consensus broker rating score of 1.00 (Strong Buy) from the three brokers that cover the company. Three equities research analysts have rated the stock with a strong buy recommendation and have set a one year consensus price objective of $13.33. Oppenheimer reiterated a "buy" rating and issued a $13.00 target price on shares of Energous Corp in a research note on Friday, September 18th. Roth Capital reaffirmed a "buy" rating and set a $15.00 target price on shares of Energous Corp in a report on Tuesday, October 6th.
The chart shows a clear downtrend over the past 18 months, but recent bottoming pattern and rally. As we head into the Consumer Electronics Show (CES) January 6-9 in Las Vegas, I think we are likely to see a spike in the share price, similar to what occurred last year following CES. At an awards ceremony on January, 8 2015, Energous won two "Best of CES 2015″ awards from Engadget – Best Innovation (Disruptive Tech) and Best (Connected) Home Product.  The RSI also supports our short-term bullish thesis, pointing higher with room to run a considerable amount before becoming overbought.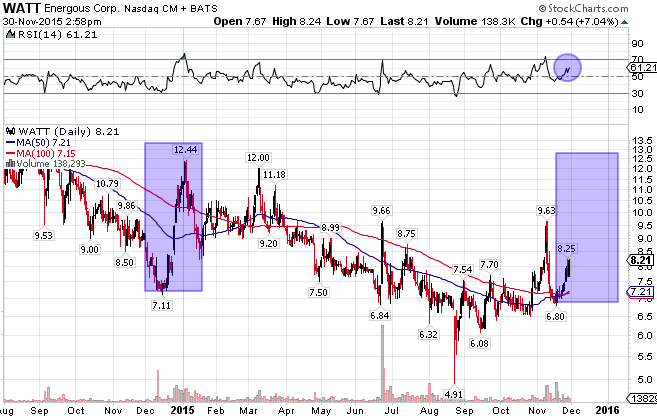 Energous (WATT) is up 7.5% today and 14% this week.
Make sure never to miss our trade ideas and stock research. Enter your email address below for FREE updates.