The Ebola virus has landed in the United States, after Thomas Eric Duncan flew from Liberia to Texas. He was released by a hospital in Dallas, despite telling hospital staff that he came from Liberia. He came in contact with up to 20 people, including 5 schoolchildren since touching down in Dallas. The CDC is monitoring these people, but I have little trust in government organizations to do anything efficiently or effectively.
The world's largest outbreak of Ebola is raging through West Africa. Over 6,000 people have been sickened with over half dying.  U.S. health officials warned this week that the number of infected could explode to at least 1.4 million by mid-January.
ZeroHedge reported that the US government bought 160,000 hazmat suits specifically designed against Ebola, just ahead of the worst Ebola epidemic in history making US landfall…
Lakeland Industries, Inc. (LAKE), a leading global manufacturer of industrial protective clothing for industry, municipalities, healthcare and to first responders on the federal, state and local levels, today announced the global availability of its protective apparel for use in handling the Ebola virus.  In response to the increasing demand for specialty protective suits to be worm by healthcare workers and others being exposed to Ebola, Lakeland is increasing its manufacturing capacity for these garments and includes proprietary processes for specialized seam sealing, a far superior technology for protecting against viral hazards than non-sealed products.

Lakeland stands ready to join the fight against the spread of Ebola," said Christopher J. Ryan, President and Chief Executive Officer of Lakeland Industries.  "We understand the difficulty of getting appropriate products through a procurement system that in times of crisis favors availability over specification, and we hope our added capacity will help alleviate that problem.  With the U.S. State Department alone putting out a bid for 160,000 suits, we encourage all protective apparel companies to increase their manufacturing capacity for sealed seam garments so that our industry can do its part in addressing this threat to global health.
Currently, there are no licensed drugs or vaccines for Ebola, although some vaccines as well as some drug candidates have entered clinical trials. Investors have been picking up shares in biotechnology companies that are working on a vaccine for the Ebola virus. Tekmira Pharmaceuticals Corporation (TKMR) was up 24% today and has been getting most of the attention. The stock is up over 200% year to date and may likely continue higher in the doing months if Ebola spreads in the United States. The company has a market cap of around $450 million.
But I think two other biotech stocks may develop superior vaccines and generate even greater returns for investors. These two stocks are Inovio Pharmaceuticals (INO) and NanoViricides (NNVC).

Inovio Pharmaceuticals plans to initiate human testing of a DNA-based vaccine for the Ebola virus in the first half of 2015. The company creates DNA-based vaccines and immune therapies, and said its vaccine might be able to address a variety of developing strains of Ebola. Inovio said that it will work with GeneOne Life Science, a company in which Inovio owns a minority stake.
Results from the drug maker's studies on guinea pigs and mice have been positive, with vaccinated animals surviving after exposure to the virus and maintaining their weight. Ebola is spread when a victim comes in contact with the bodily fluids of an infected person. The virus produces a protein that wreaks havoc in the human body, causing blood to leak from blood vessels. It interrupts the body's ability to thicken and coagulate blood.
NanoViricides announced it was restarting its drug development program to combat Ebola virus infections.
"We believe that with our 'intelligent nanomachines' approach we have the potential to develop superior therapeutics as compared to other approaches," said Anil R. Diwan, PhD, President of the Company.

"We are happy to restart the Ebola program, considering the public health impact of the Ebola virus infection," said Dr. Eugene Seymour, MD, MPH, CEO of the Company, adding, "We are in a strong financial position now, enabling us to work on this project while we continue to advance our FluCide™ and DengueCide™ therapies further towards clinical trials. We hope to create highly effective drugs against Ebola, similar to what we have achieved with our FluCide™ Influenza drug candidate."
The chart shows sideways trading over the past few months. The share price has now hit support just below $10 and we should get a powerful bounce if they make progress on their vaccine. Investors may also snap up shares if Ebola begins to spread in the United States or elsewhere.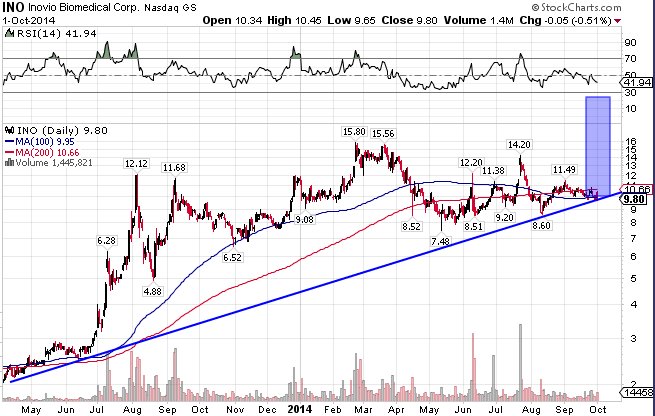 The Company's first drug candidate, NV-INF-1, Injectable FluCide™, is designed to treat all influenza infections in hospitalized patients. Influenza A H1N1 infected animals treated with FluCide survived the full 21-day observation period, whereas animals treated with 40mg/kg/d oseltamivir phosphate (Tamiflu®) survived only 8 days in this highly lethal study. NV-INF-1 demonstrated an unparalleled 1,000-fold reduction in lung viral load compared to untreated animals on day 4 in this lethal animal model study. Moreover, the lung viral load remained suppressed to this baseline level. In contrast, the current standard of care, oseltamivir, (Tamiflu®, Roche) exhibited only a 2-fold reduction in lung viral load at day 4, that rapidly rose by approximately 2X on day 7. NV-INF-1 also caused the lungs of treated animals to remain substantially healthier than the untreated control or oseltamivir-treated mice. Further, NV-INF-1 has been found to be extremely safe in preliminary safety/toxicology studies.
The Company currently has approximately $41 million cash-in-hand and cash-like-instruments. These funds are estimated to be sufficient for taking at least one of our drug candidates through initial human clinical trials, and possibly take another drug candidate into human clinical trials. NanoViricides, Inc. now has its own drug manufacturing facility that is capable of producing sufficient quantities of an anti-Ebola drug after it is developed, for combating Ebola epidemics.
The company has a small market cap of around $170 million and their share price is down 35% year to date. NanoViricides has the highest risk/reward profile, followed by Inovio and then Tekmira.
The technical chart shows a recent dip below trendline support and spike higher today. The RSI is oversold, so we could get a continued bounce from NNVC in the coming weeks.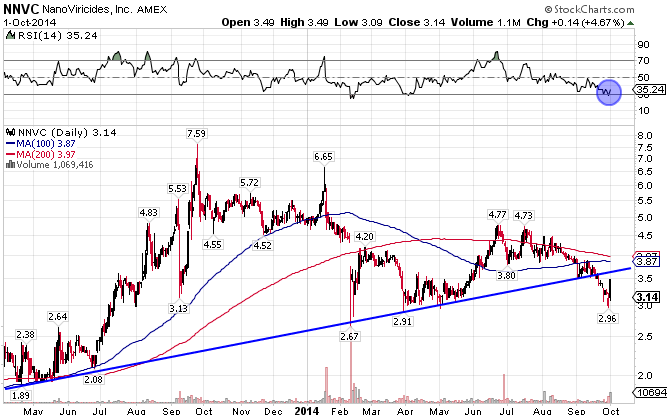 Other stocks getting attention as the Ebola virus spreads include BioCryst Pharmaceuticals, NewLink Genetics Corp and Sarepta Therapeutics. They are all working on some type of treatment for Ebola. Godspeed.