As a technology investor, we all want to invest early in companies with disruptive technology that will effect major change within large industries. In my view, one of the best spaces to put money to work is at the intersection of technology and medicine. We have found exactly this type of company and believe the upside potential is absolute enormous.
Biotelemetry (NYSE: BEAT) is the leading wireless medical technology company focusing on the delivery of health information to improve quality of life and reduce cost of care. The company currently provides cardiac monitoring services, original equipment manufacturing (with a primary focus on cardiac monitoring devices) and centralized cardiac core laboratory services.
The company provides beat-to-beat, real-time analysis, automatic arrhythmia detection and wireless ECG transmission. Their technology can monitor a variety of bodily functions including: pulse, heart rate, respiration and perspiration. The information is monitored 24/7 and the technology can send that info via email, smartphone app or directly to the cloud. BioTelemetry prides itself with helping clinicians prevent morbidity, mortality and disability with rapid diagnosis and treatment of patients with cardiovascular disease. Doctors and family members can get alerted in real time whenever there are irregularities in heartbeat or a variety of other health indicators.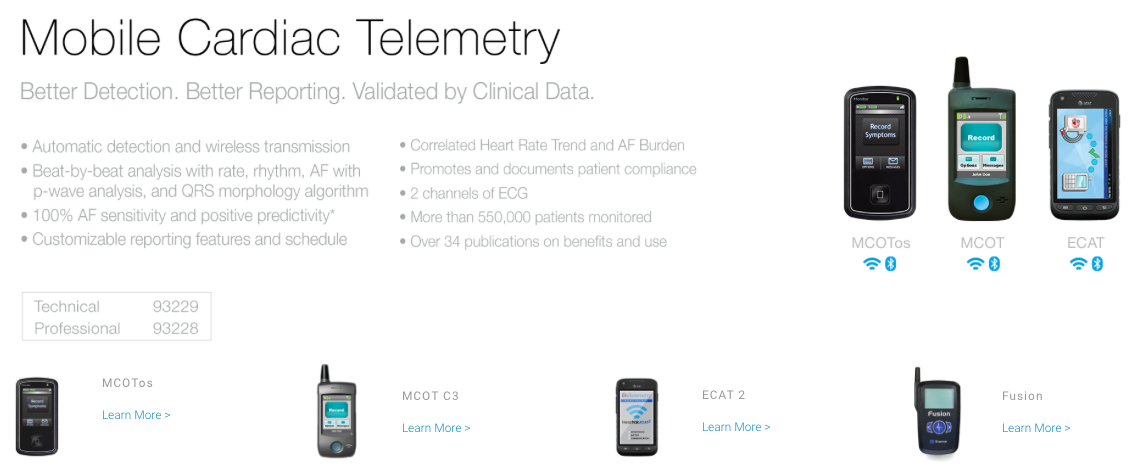 Imagine being able to identify irregularities before a heart attack occurs and get treatment to prevent it.  The technology has the ability to not only save people from financial ruin, but to literally save their lives via proactive treatment, rather than reactive surgical procedures with a higher failure rate.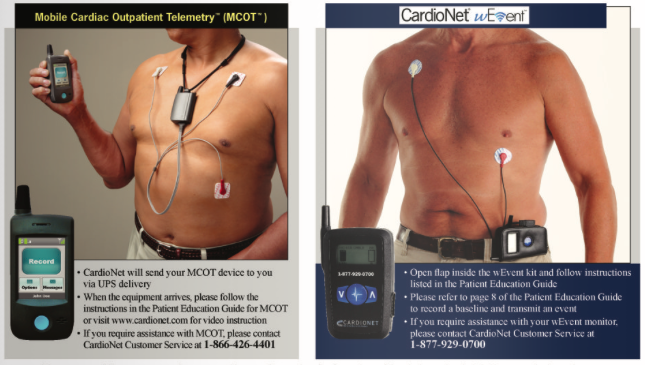 Cardiovascular disease is the # 1 killer in the world, with roughly 18 million people dying from heart-related issues each year. The market for Biotelemetry is huge and the impact they can have on preventing premature death and health problems, while improving quality of life, is game changing.
Biotelemetry is part of the growing movement of 'telemedicine' the involves on-demand video visits over the Internet. This approach provides instant doctor contact by a patient without having to schedule an appointment, wait days to get in, drive to the doctor's office, find parking, fill out paperwork, sit in a waiting room with sick patients for lengthy time periods and spend hundreds of dollars. With telemedicine, doctors can be available by cell or online 24/7/365, often using video conferencing such as Skype and charge roughly 1/2 of what you would pay for a physical visit. In my family, we increasingly resort to Google searches or calling family and friends that are doctors in order to avoid a physical visit whenever possible. As you might expect, the telemedicine industry is growing rapidly and Biotelemetry is capitalizing on this growth trend.
Biotelemetry owns the world's largest cardiac data network, processes over 2 billion heartbeats a day, while supporting over 20,000 sites, and monitoring over 500,000 patients a year. They have provided over 1 million reports to physicians with information for diagnosis and therapy management, with over 50,000 monitoring devices. Biotelemetry has 29 U.S. patents and 34 international patents issued, with over $300 million invested in the technology and service platform.
Financials and Valuation
Unlike most disruptive technology companies, BEAT is actually profitable and growing earnings. They achieved profitability in the most recent quarter with $2.2 million in GAAP net income. They have experienced twelve consecutive quarters of year over year revenue growth and seven consecutive quarters of sequential revenue growth. Revenue for the second quarter 2015 was $44.8 million compared to $42.7 million for the second quarter 2014, an increase of 5.1% or $2.1 million. Gross profit during Q2 increased to $26.7 million, or 59.7% of revenue, compared to $23.6 million, or 55.4% of revenue, in the second quarter 2014. The company reported positive adjusted EBITDA of $7.9 million and serviced approximately 140,000 patients in the quarter, on track to service a record number of patients in 2015.
They are on track to achieve previously issued guidance of low double digit revenue growth and over $32 million in adjusted EBITDA, a 60% increase over the prior year, for the full year 2015. As of June 30, 2015, the Company had outstanding debt of $23.8 million. The Company also has access to a $15.0 million revolving credit facility which remains undrawn.
Medicare approved increased prices for their patient reimbursement rates for BEAT services. The company estimates this will increase their bottom line by $5 million or $.17. This boosts the 2016 estimate to $.72 or 75% higher than the 2015 estimate with 2016 sales to $205 million. Future Medicaid approvals will continue to expand the size and scope of BEAT's potential as Telehealth takes a larger and larger share of the medical pie.
BEAT is on track to grow earnings from a loss of $(.30) per share in 2014, to projected earnings of $.45 per share in 2015 and an estimated $.72 to $.74 per share in 2016. This is impressive growth, yet the forward P/E at the current share price is only 16. Compared to peers in the field, this is very low and I believe will eventually rise to somewhere in the 35 to 45 range. This suggests a share price somewhere in the $26 to $33 range, which is double to triple where shares currently trade.
Risks
Market headwinds could prevent BEAT from moving higher as fears of a FED rate hike continue. The medical space is dominated by large players, which can make for strong barriers to entry. While Biotelemetry has recently been successful with patent enforcement, competition will eventually increase in this space and erode their first-mover advantage. Some investors online have expressed frustration with decisions made by management, particularly too much focus on the bottom line and not enough on developing sales growth.
Technicals
Shares of Biotelemetry (BEAT) are up 20% year to date in 2015, but have plunged 25% in the past month. I believe this provides investors with an excellent opportunity to buy the dip. At $12 per share, the market cap is currently $328 million. The technical chart is bullish with clear technical support around $11. This support is at the uptrend line chart below, was resistance and support on multiple occasions over the past year and aligns directly between the key 100-day and 200-day moving averages. The RSI became oversold recently, but has bounces as the share price stabilized around $12.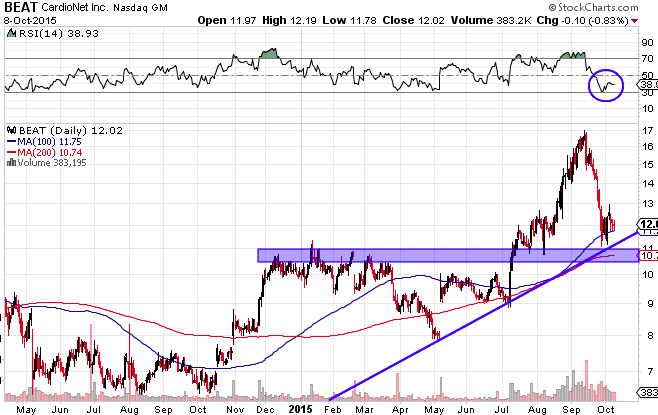 Conclusion
BEAT offers disruptive technology in a growing sector, is undervalued fundamentally, has recently become profitable and is growing earnings rapidly. The share price has been dragged down with the overall markets in the past month and I believe this has provided an opportunity for investors to buy shares at strong technical support levels. I believe the upside potential is huge and the downside risk is relatively small at this juncture.
I added shares to the Technology Speculator portfolio today at $12. I also own shares of BEAT in my personal portfolio, so I am biased. I was not compensated to write this article. As always, you should perform your own due diligence and/or consult with a registered investment advisor.  
Click here to get our FREE updates, stock picks and technology research.